If you want to start trading stocks, you first need to find a stock brokerage to open an account with. These are companies where you deposit your money, and use their platform to buy and sell stocks, ETFs, options, mutual funds, etc. There are a lot of companies out there that offer brokerage services, and all at different rates. The rates and benefits of each brokerage can sometimes be confusing, so here we will break down each of them in hopes to make it easy to understand.
Best Low-Fee Trading Brokerages
If you are looking for a broker that doesn't penalize you for not constantly trading all the time, or for making smaller trades with lower commissions, these are for you. Many retail investors who like to trade with less than $10,000 in their account will likely be attracted to these opportunities. The top two choices in Canada for this are Questrade and Wealthsimple.
Questrade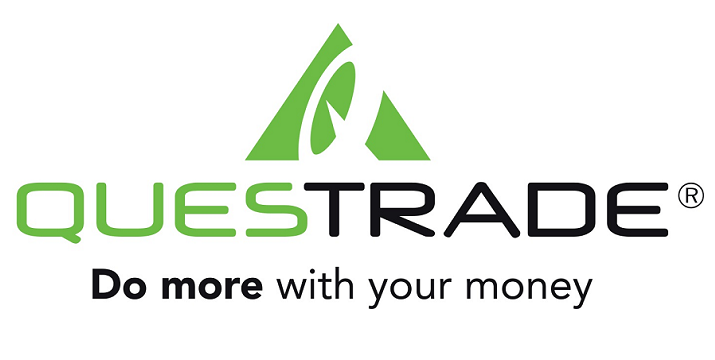 Questrade is probably the best option especially if you want the ability to trade Options. Out of the two low-fee brokers, Questrade has a much wider range of stocks to trade in, and also offers Options, bonds, and much more compared to Wealthsimple.
Requirements / Fees
$1,000 minimum account balance to open a new account
Every trade is $0.01 per share, but has a minimum of $4.95 fee, up to $9.95 max. What this means is if your trade is for more than 500 shares at once (500 shares x $0.01 = $5), you will pay more than the $4.95 but never more than $9.95.. In almost all cases you would probably be paying the $4.95 fee unless you are buying penny stocks or trading with large amounts of money in a single trade.
No annual account fees or inactive fees. Trade as often or as sparse as you'd like.
Other Notable Facts with Questrade
Trade a very wide array of investment options including stocks, ETFs, IPOs, mutual funds, bonds, GICs, forex, commodities, and more
The low transaction fee of $4.95 is half the amount the big banks charge ($10 per trade generally)
No fees for trading ETFs. Some brokerages charge a commission fee for buying ETFs, Questrade does not
Wealthsimple
Wealthsimple offers trade with no commissions at all for trades in both ETFs and stocks. This is a very attractive selling point for many new investors. With no commissions on trade, any time you make money on a trade, you don't have to worry about losing your gains to pesky commission charges.
The catch to this is that you cannot hold US dollar accounts with Wealthsimple. Any purchase of a security that is in US dollars (any stock or ETFs on the US stock markets) will charge an extra 1.5% foreign exchange fee per trade. While this is still usually much cheaper than all alternative brokerages in terms of fees, it should be highlighted as many people don't realize this extra fee is almost hidden in your trades.
Requirements / Fees
No fee to open an account
No commission fees per trade
No inactive fees or required trades per quarter
1.5% extra foreign exchange fee when trading on US stock exchanges
Other Notable Facts with Wealthsimple
Can only trade stocks and ETFs, and some cryptocurrency. No options, mutuals funds, etc.
Only some stocks are available. If you are looking to trade lower value stocks or lesser-known companies, they may not be available on Wealthsimple
Mostly mobile friendly.
There is not much in terms of analysis or stock charts. It is pretty much a trading platform only
Deposits can takes up to 3 days to process
TFSA accounts are available
Best Bank Brokerage
Most banks in Canada offer brokerage services as well as great tools for researching stocks and ETFs. They also tend to be more expensive than the previous mentioned brokerages, as they do provide this extra amount of information. TD Direct Investing, or TD WebBroker, charges $9.99 per trade. CIBC charges $6.95 per trade, but they do not offer the same amount of analysis and research tools as TD.
TD Direct Investing / TD WebBroker

TD Direct Investing offers a myriad of extra information that many of the other brokers do not. Its true that their commissions are more expensive at $9.99 per trade, so it is not for everyone. Some investors prefer to have accounts across multiple brokerages to take advantage of different investing strategies.
Some may choose TD for longer-term investments or investments where a trade is at least $2,000 or more for example. Using the $2,000 per trade rule, you only need to make 1% profit on the trade to cover your total commission cost of $20 ($9.99 to buy, $9.99 to sell). If your trade made more than 1% profit, then you are in the green.
With tools in the research section, you can sort ETFs by all sorts of factors to find what is best for you. You can also do this with mutual funds or even stocks. In the stock research section, you can find a wealth of information on any stock such as the Morningstar ratings reports, technical analysis, fundamentals, earnings reports, and more.
Requirements / Fees
No fee to open an account
$9.99 commission per trade. $7 per trade if you trade more than 150 trades per quarter.
Free research area and reports on stocks and all securities
If you want customer support assistance to call and purchase a trade on your behalf, you can for a price as well. Commissions for these trades are higher, but you are better off learning how to use WebBroker efficiently and trade on your own with ease!
Other Notable Facts with TD Direct Inventing / TD WebBroker
Can trade virtually any security available: stocks, ETFs, options, mutual funds, bonds, GICs, cryptocurrency, etc.
Virtually all stocks are tradable including pink sheets and ventures
Vast array of tools to help you keep informed on stocks and make the right decisions on your trades
Open all kinds of trading accounts such as a Cash account, margin account, or TFSA
Conclusion
These are the best Canadian stock brokerages currently out there in 2021. Each one is special in its own way and great for all kinds of different investors. Perhaps you want to open two accounts for different strategies, one with TD and one with Questrade or Wealthsimple. Ultimately, TD really is the best place if you are looking for a vast amount of information to help you make your decisions.
If you want to invest properly, open a TD Direct Investing account for those more thought-out trades and dividend earners. If you want to throw some money into a trading account and trade quick and dirty to see what you can come out with, open Wealthsimple for a commission-free, easy access trading platform. If you want a well-rounded platform that has access to more options than Wealthsimple and don't mind paying a small commission fee, Questrade is the way to go!